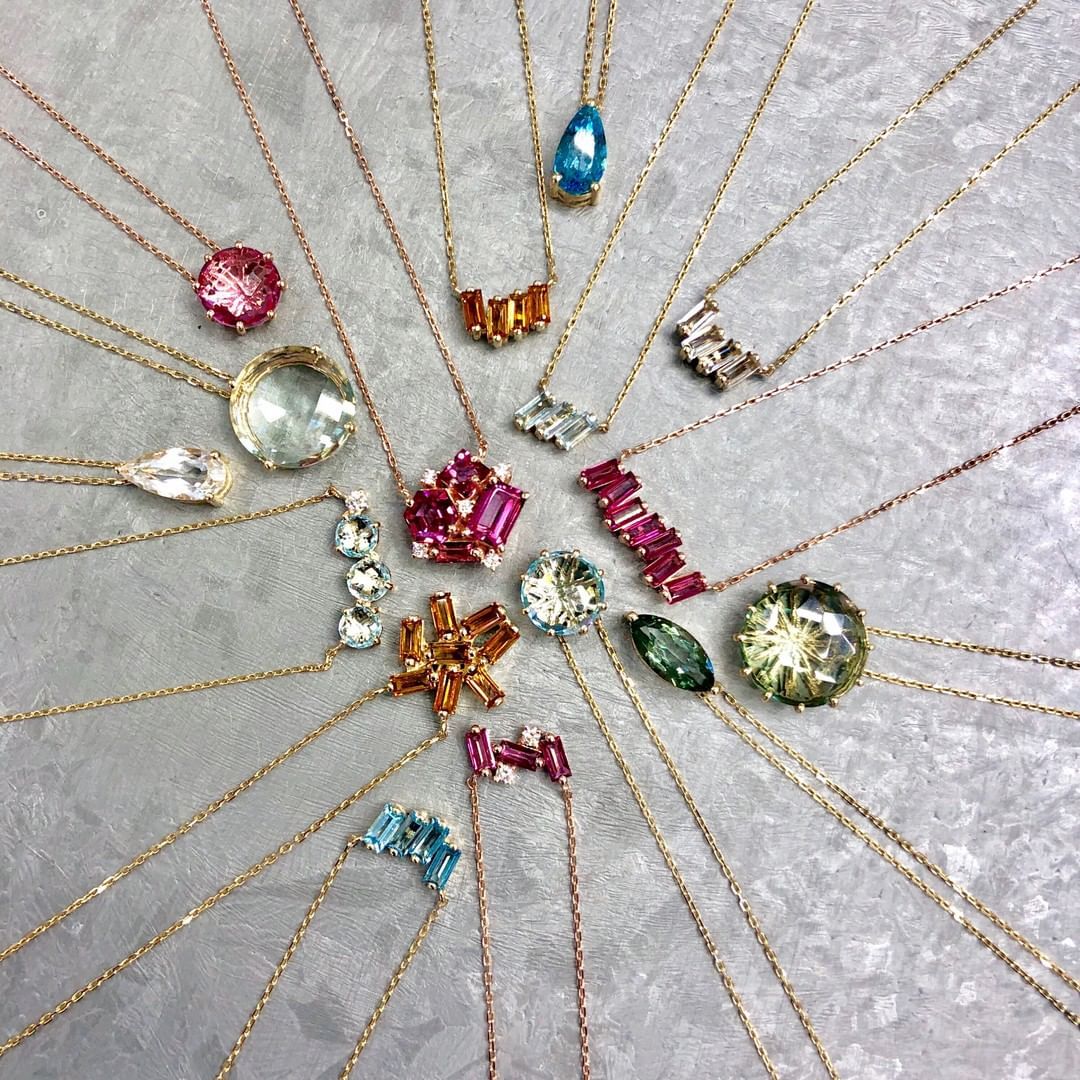 Suzanne Kalan is making glittering, technicolour jewels for everyday wear.
For Los Angeles-based jewellery designer Suzanne Kalan, starting her own label all began with colour. "When I started back then, it was with fashion jewellery using Swarovski crystals and it was always colour," she told Vogue on a recent visit to Australia with Net-A-Porter. "Back then when I started, fashion jewellery was more fun. Fine jewellery was really serious." Given that Kalan was so drawn towards colour, she felt she had no choice but to work with less expensive, fashion-focussed jewellery, rather than tap into the luxury market. "I guess that's why I was attracted more to fashion rather than fine," she shared. "But then eventually people started accepting fine jewellery with more colour, and more style."
Far from the rest being history, this change in acceptance in the mid to late '90s did totally transform Kalan's business, but she's been continuing to transform over the past few decades too. The Suzanne Kalan jewellery label is now known the world over for its brand signatures, including pieces featuring a scattering of coloured baguette diamonds or segmented gemstones – all using colourful, precious stones like sapphires and diamonds. Her work is instantly recognisable, with the glittering smashed up look, often in a variety of sherbert colours, becoming an iconic brand code she calls 'Fireworks'.
"Right now I'm more into solid colors with the Fireworks," she explained. "The rainbow Fireworks, which was the brighter sapphires, the blues and pinks, the stronger colours. Now we're doing the pastels in the same mix of colours but softer. And a lot of emeralds and blue sapphires, like more dark blue, solid colours and pinks also."
Kalan was always destined to become a jewellery designer, given that her father was a successful jeweler himself. Despite her family roots, it didn't make starting her own label any easier – Kalan had to sell a diamond tennis bracelet that she wore on her wedding day in order to fund her business.
"We were just living day to day, we didn't have any money," she described. "I wanted to buy some products to start making the pieces and I had to charge $1200 to our credit card, just to buy beads and brass chains. Those were the first samples. And then we started getting orders but we didn't have any money to buy the stock to fill the orders. I said, 'I don't care, sell whatever you need to. Let's just start this business.' That's how it started."
Growing up in a jewellery store did give Kalan some invaluable experience in how to work with stones though. Even now, any given gemstone – and its vibrant colour – is the starting point for inspiration in her design process. "I have trays and trays of stones," she explained. "I'm always buying beautiful stones, always. Even if I'm not using it for a few years, I love to have them." The stones she uses are sourced in South America, Africa, India or Thailand, and then cut in Thailand, before being handmade in Los Angeles.
An innate sense of what a woman wants or needs in her jewellery box is the other way Kalan approaches designing a new collection. "The other thing is, [I ask myself], 'What is it that I need?' I'm missing a long diamond necklace, let's say, or I want a beautiful cuff. What is it, that I want, that I need, that's not in the line?"
For those who might argue that a $25,000 diamond choker or a $4,500 hair clip is not inherently necessary in one's life, Kalan wants you to think twice.
"If you're spending money on fine jewellery, you should be able to wear it whenever or wherever you want to. It doesn't matter. I would say 99 per cent of what we make, you're able to wear any time of the day, anywhere. There are a few really big pieces, but most of them, even if they are very highly priced, you can still wear them."
Lastly, her customer's reactions are the other reason she gets inspired to sit down and design. "When you are done and people see it and you see the reaction, you hear great things – then that's the best part."