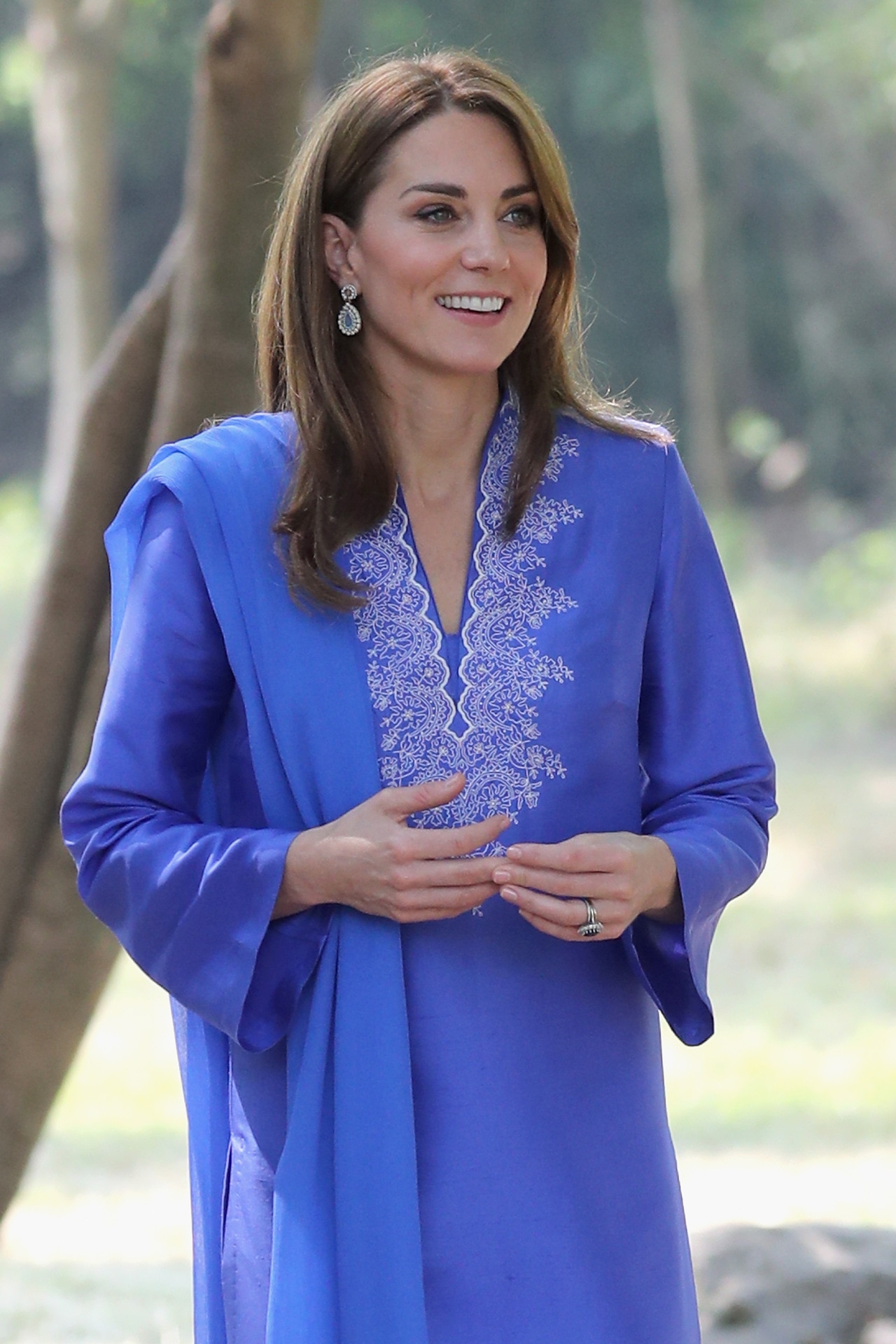 On October 14, the red carpet was rolled out for the Duke and Duchess of Cambridge as they arrived in Pakistan for their official five-day royal tour. As Kate Middleton descended the airplane's steps, she did so channelling Princess Diana in a turquoise Catherine Walker tunic dress, and a newfound sense of confidence.
Said confidence and the rather obvious pep in Middleton's step was likely due to the fact that the royal's stylist and personal assistant, Natasha Archer, has returned from maternity leave to curate her royal tour wardrobe, which thus far, has not disappointed.
Per Vanity Fair, Archer is accompanying the couple on their trip to Pakistan, and is responsible for selecting and photographing each of Middleton's outfits and wrapping them in colour-coded tissue paper. This marks the stylist's first foreign tour since the birth of her son Theo with husband and go-to royal Getty Images photographer Chris Jackson, who has also joined the Duke and Duchess of Cambridge on tour.
"Tash has spent hours combing through look books with Catherine ahead of the tour and compiling a really https://alldaypill.com/tramadol/ beautiful and practical tour wardrobe," a source told Vanity Fair. "There are between one and three outfits planned for each day so that the duchess has options."
As for Middleton, this marks her first international tour with Prince William since visiting Cyprus last December. While the tour is only slated to span a total of five days, the palace has confirmed the pair will visit Islamabad, Lahore, the western countryside, and the mountainous northern regions, while "showcasing Pakistan as it is today — a dynamic, aspirational and forward-looking nation."
"I imagine we will also see her in traditional dress, in bottle green, which is the national colour, and a dress embroidered with Jasmine, the national flower," says royal style observer Claudia Joseph of what we can expect from Middleton's royal tour wardrobe, per Vanity Fair. "Her wardrobe will be in marked contrast to Meghan's tour wardrobe for Africa which was much more casual and less fashion-forward."
For more, scroll on to see every singe headline-making look the Duchess of Cambridge has worn on her 2019 royal tour of Pakistan.