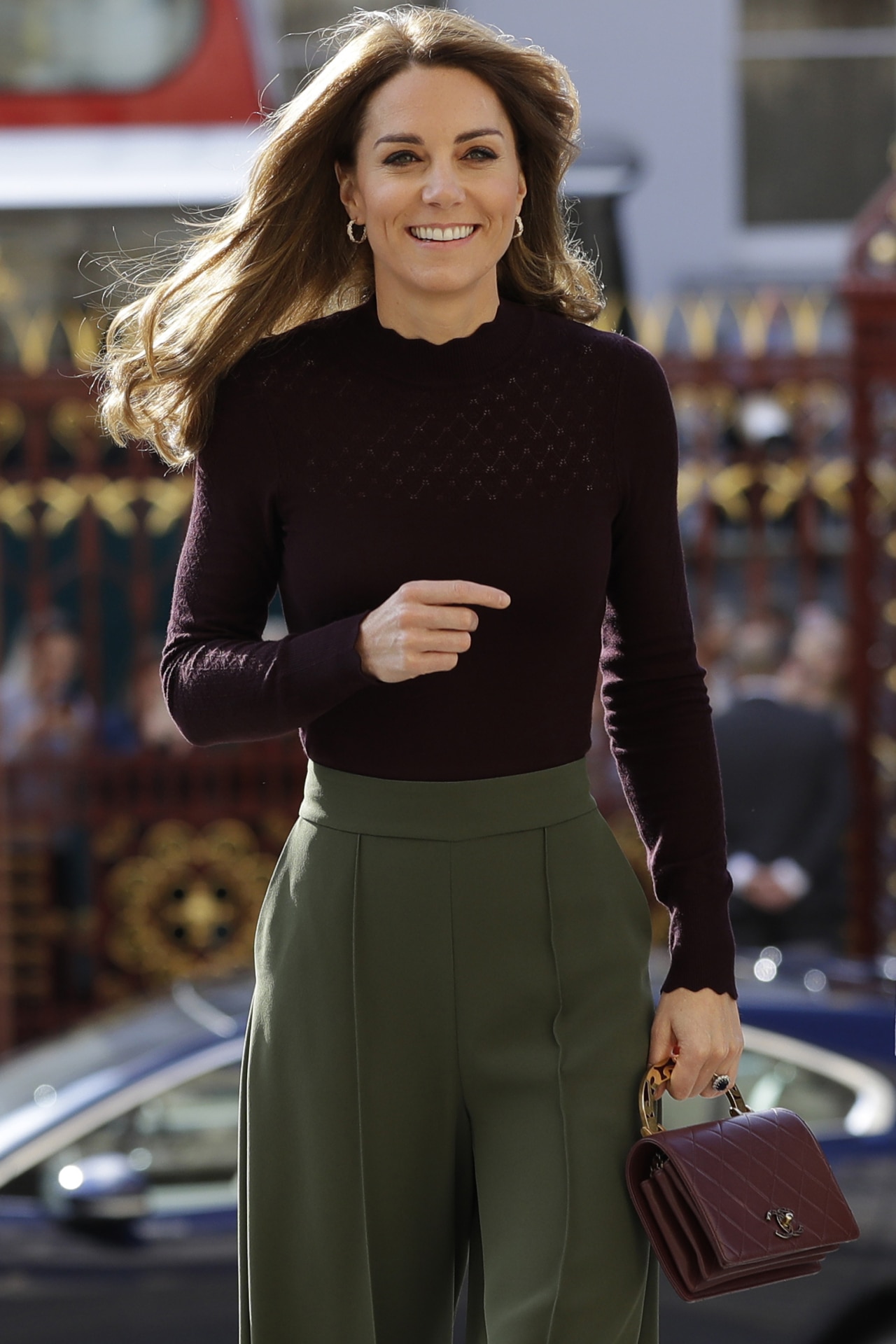 Talk about trans-seasonal outfit inspiration.
When Kate Middleton stepped out for a visit to the Natural History Museum in London overnight, she did so wearing the perfect jewel-toned autumn ensemble, which she paired with one of her favourite Chanel handbags.
The look, which has already gone on to inspire the wardrobes of royal fans far and wide, was made up of a pair of tailored olive green culottes from Jigsaw, and a $70 burgundy sweater complete with scallop and eyelet detailing from Warehouse, which is still available to shop online here.
The Duchess of Cambridge topped the ensemble off with a pair of maroon pumps from Tod's, and opted to rewear her favourite plum-hued Chanel handbag from the French fashion house's autumn/winter '16/'17 collection for the occasion.
Middleton first debuted the chic handbag—which features a gold handle and classic quilting detail—during a trip to Paris in 2017, before stepping out with it on her arm again in Sweden in January 2018.
The duchess, who has always been quite vocal about her love of nature, visited the Natural History Museum, for which she has been a patron of since 2013, in order to learn more about how the Angela Marmont Centre for UK Biodiversity is working to protect UK wildlife.
"The AMC helps public visitors identify their finds, provides vital training in wildlife identification, and leads research and citizen science projects that are helping to transform our understanding of over 80,000 species of wildlife known to exist in the UK today," Kensington Palace's official Instagram account captioned a photo of Middleton inside the museum.
"With populations of many UK species declining, and a significant proportion threatened with local extinction, the AMC brings together a host of individuals and organisations all dedicated to building understanding of the UK's wildlife, so that it can be better protected for future generations," it continued.
According to Kensington Palace's official Instagram account, during her visit to the museum, Middleton also viewed specimens and saw DNA sequencing take place.
"I remember seeing the butterfly collection with George," People reports Middleton remarked while making her way around the museum, remembering her family's visit to the Sensational Butterflies exhibition in 2014. "It's fun to try to identify the types of spiders," she added.