From their home base in Kiev, Anton and Ksenia Schnaider are transforming the global jeans market, pushing us closer towards a playful frontier in denim.
Rocking and shocking consumers is the bedrock on which the fashion world has been built: clothes polarise buyers, shoes arouse divisive emotional connections and accessories tug at our purse strings until we commit to invest. But there is at least one agreeable fashion truth that cannot be overstated: no item of clothing has endured as affectionately since its introduction as the inimitable pair of jeans.
Though they need no introduction (and likely predominate most of our wardrobes), tackling a legacy that dates back to 1873, when jeans originated, is no small feat. And, while it is true that Instagram has facilitated a new class of emerging digital-native designers to take to the international stage, encouraging shoppers to wear in a new pair of jeans from an unknown label is a lofty challenge most designers would shy away from.
But not husband and wife Anton and Ksenia Schnaider, whose novel approach to denim has helped their brand, Ksenia Schnaider, to cut through the noise. After launching in 2011, the designer duo pivoted from silk and wool and began toying with old denim, releasing their first pair in 2015. Their weird and wonderful wares – asymmetrical jeans and demi-denims (a style made famous by Bella Hadid where two pairs of denim are layered over one another) – immeditately caught the attention of retailers like Selfridges and raremarket and precipitated a cult following that counts Celine Dion and Gigi Hadid as fans.
Now, the designers chat to Vogue about their circular design process, the importance of sustainability and the gamut of references as unexpected as their offerings (from meme culture to modern art) that serve as inspiration for their jeans.
Born of Ksenia's personal love of the material ("it's my daily wear; I'm a denim girl"), and the now husband and wife's budding relationship ("we started dating, then we started living together [and] slowly we started working together"), Ksenia Schnaider's foray into denim began with two pairs of old jeans, which Ksenia stitched together to make them anew.
"It became a meme on the Internet, on Instagram, and lots of influencers started [sending] direct messages," she explains, recalling that Selfridges came flocking first. "They said: 'we need more denim than one style. We need denim jackets, denim skirts' and so on… So I came back to Kiev and started searching for denim manufacturers," Ksenia explains. This modern beginning cultivated the designers' interests in the intersections between social media, advertising and fashion, with Anton citing "a mix of internet culture and contemporary art and just the area around us" as key sources of inspiration.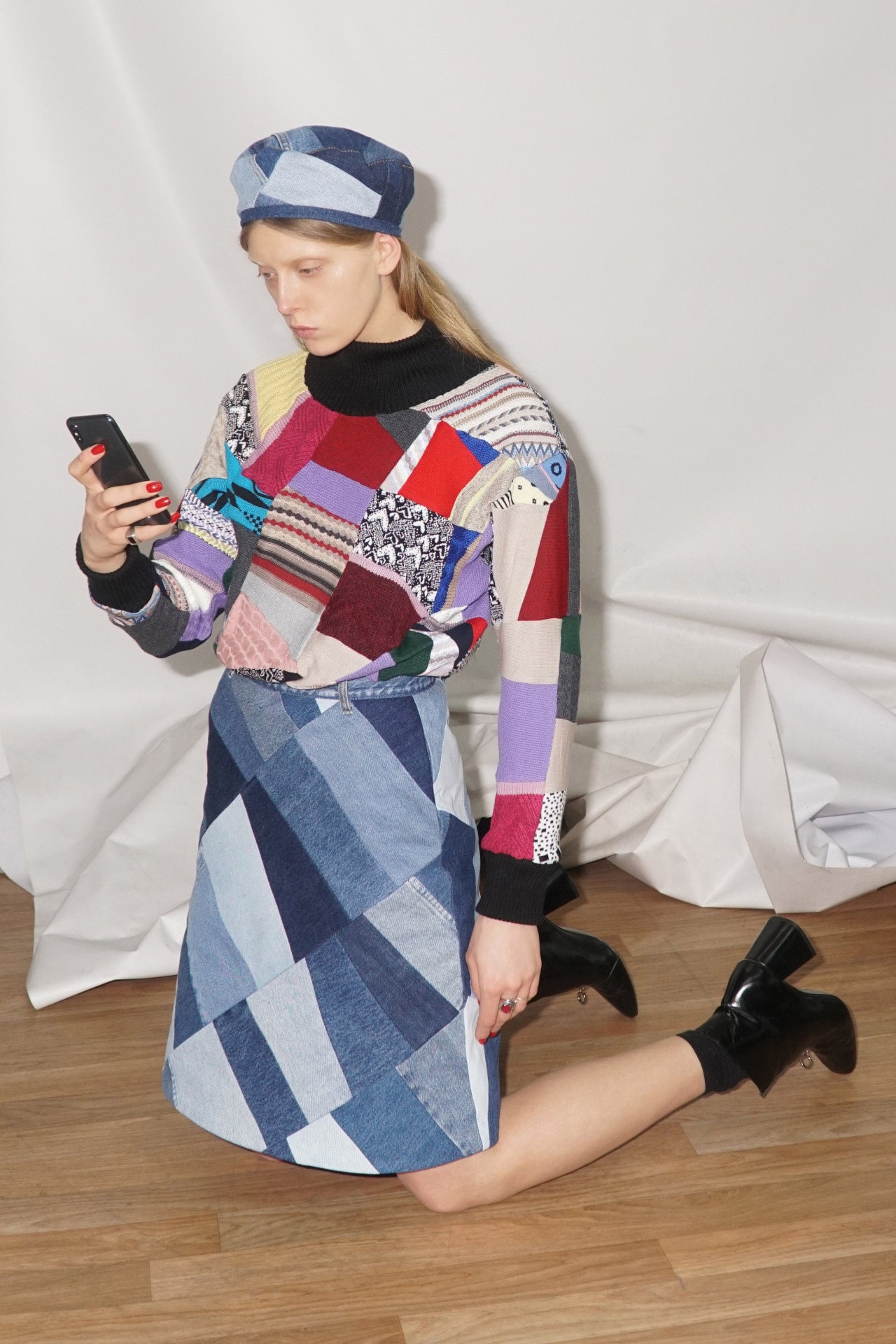 Ksenia Schnaider pre-fall 2019. Image credit: Ksenia Schnaider
The result is an approach to denim that plays up the mundane and pays homage to the brand's unconventional digital start (the label has amassed nearly 55,000 Instagram followers). "We always try to recreate basic jeans and to invent something new," explains Ksenia. "New silhouettes, like asymmetrical jeans or demi-denims… We do patchwork, and we also work with denim leftovers… we like to make [denim] fun, to put irony on everything," she continues.
And to make content that is extremely meta too. For their campaigns, the designers consult key influencers and models to style and capture their look books, with every image featuring a model mid-selfie becoming an instant identifier of the brand.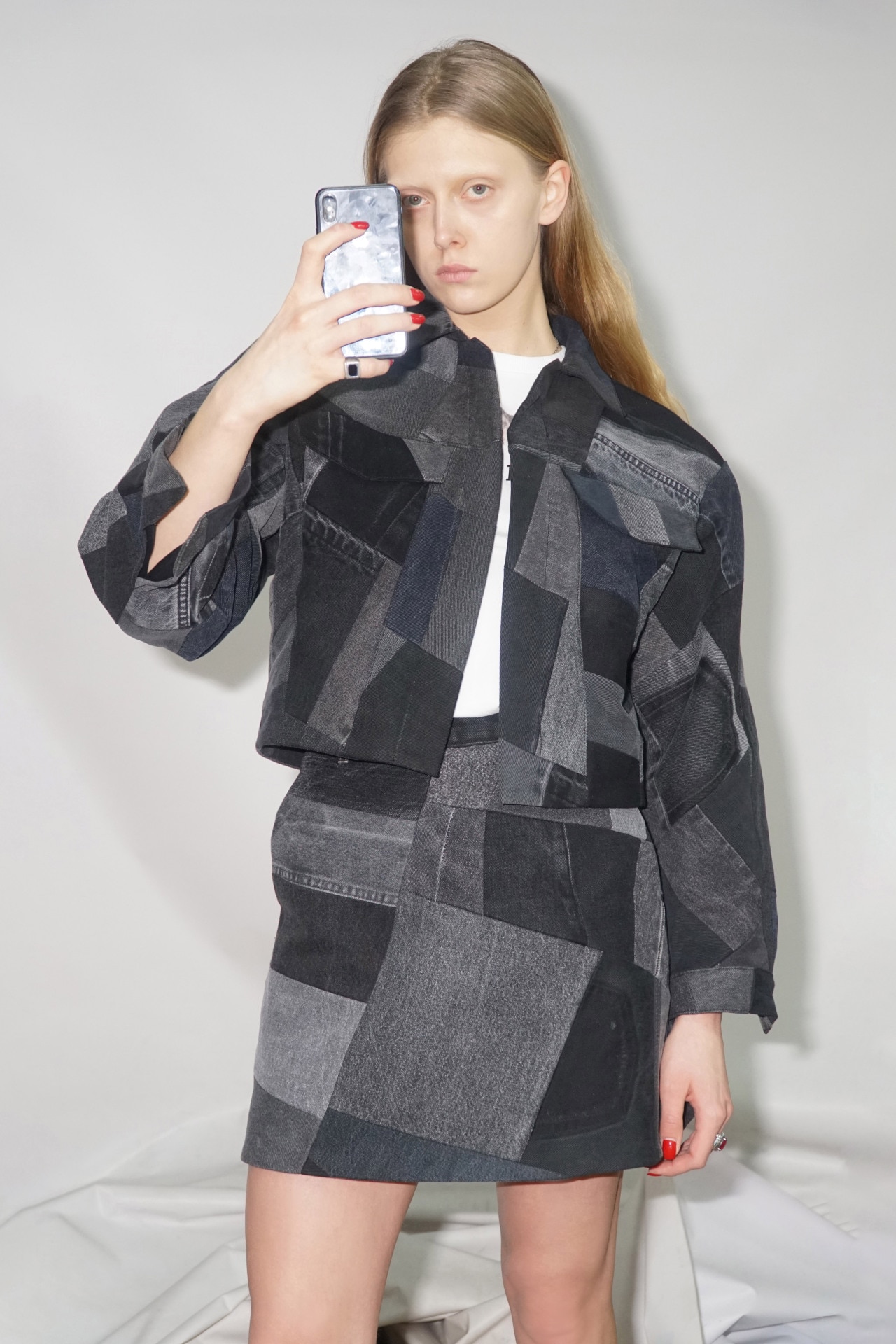 Ksenia Schnaider pre-fall 2019. Image credit: Ksenia Schnaider
Though their output is always creative and tongue-in-cheek, it's never without consideration of the brand's environmental impact and its potential to educate, especially in their native Ukraine. "Ukrainian people are a little bit unaware of recycled materials, recycled polyester or vintage denim, so they still need to learn about it," admits Ksenia, who together with Anton has started local clean-up initiatives and hosted roundtables to highlight issues of sustainability.
"We recycle lots of old, vintage denim that [the designers] source from different second hand markets," the brand's publicist, Ilona Kyslova, explains with the designers over the phone, noting that 30% of their collections is made of recycled denim. "They use materials from their previous collection; all the leftovers," she adds. Anton echoes the designers' resourcefulness, which remains tethered to a fashion focus: "we want to find balance between sustainability and fashion-forward thinking. We want to combine it."
As Ksenia Schnaider look to the future, expanding their offerings with each season and persuading consumers to be more adventurous with their denim style, their mission is both simple and environmentally-viable. "We always try to think about the person who will wear it and how he or she will feel… [When you wear Ksenia Schnaider] you should feel cool and fashionable but without any effort."