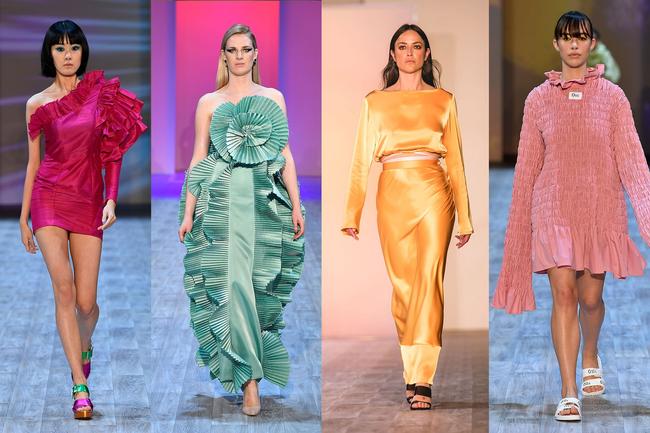 As the style set took in the shows at New Zealand Fashion Week in Auckland this past week, designers across the board conveyed a clear instruction to attendees: to reignite a dormant yearning for colour we didn't know was missing from our wardrobes but do now.
From Kate Sylvester to Kathryn Wilson, Olli to Hailwood, a thirst for bright coloured blues, soft fruit sorbets and printed patent leathers in wine and forest green hues established resplendent colour as a key identifier of New Zealand style, both on and off the runway.
Dispelling popular myths that black (alongside brown and dark blue) is always best, designers sent down skirt sets in pastels of pink and orange as per Paris Georgia, maxi dresses in forest green as seen at Maggie Marilyn and monochromatic leather ensembles in cherry red as spotted at Stolen Girlfriends Club, illustrating to audiences that we can integrate colour into our outfits with ease.
As warm, rich tones abounded, inundating almost all of the collections exhibited during the week with colour, fashion show goers were encouraged, even subconsciously, to reconsider the uplifting potential of a colourful piece of clothing, or two, in our everyday wear.
Below, the boldest colour trends exhibited at New Zealand fashion week to put to memory and better yet, dress up in.
From left to right: Kathryn Wilson, Hailwood, Paris Georgia, Olli
Think pink
While it's common to shy away from pink if one does not want to accentuate a hyper-feminine sensibility, designers like Kate Sylvester and Maggie Marilyn expertly handled the soft-yet-powerful colour, juxtaposing associations of lady-likeness with sharp tailoring and utilitarian pockets.
From left to right: Maggie Marilyn, Kate Sylvester, Kate Sylvester.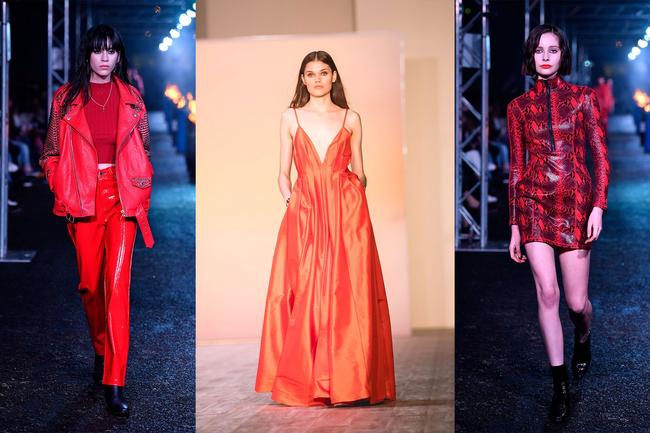 Reconsider red
At Stolen Girlfriends Club and Paris Georgia, bright red featured heavily across both collections, often show in a monochromatic ensemble. While a head-to-toe look might not translate as easily off the runway, consider opting for a red item, like a jacket or a mini-skirt, alongside more neutral pieces to counterbalance the brightness.
From left to right: Stolen Girlfriends Club, Paris Georgia, Stolen Girlfriends Club.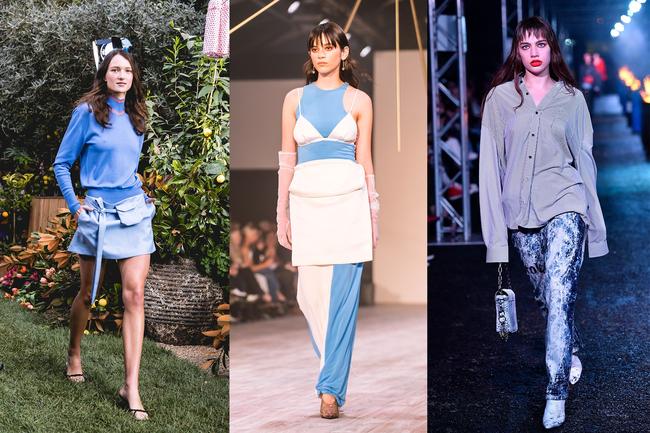 The blues
It seems as though shades of blue played heavily on the mindsets of the designers behind Paris Georgia, Stolen Girlfriends Club and Maggie Marilyn. Interestingly, all three spotlighted not one but several shades of blue, pairing these together for subtle contrast.
From left to right: Maggie Marilyn, Paris Georgia, Stolen Girlfriends Club.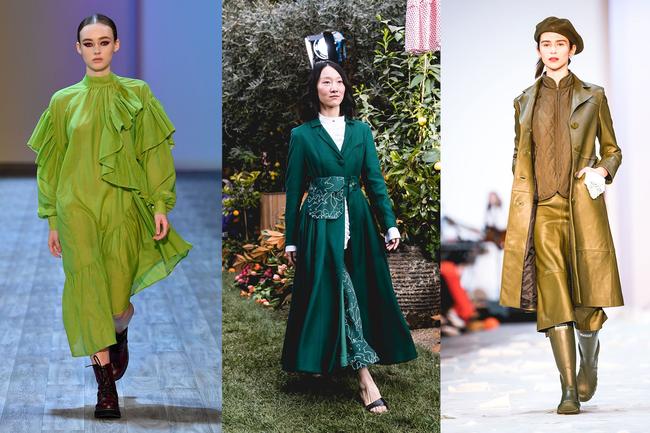 Go green
This year, New Zealand fashion week gave way to 50 shades of green, extending our colour vocabulary from the usual dark or forest green shades to include limes and khakis. Where designers like Olli highlighted the colour as an obvious shade to incorporate in the summer, Kate Sylvester simultaneously emphasised the multiple uses of green in cooler seasons, layering quilted jackets under leather trench coats and pairing with gumboots in similar yet distinct shades.
From left to right: Olli, Maggie Marilyn, Kate Sylvester.