Born of a desire to fuse style with function, Australian label Templa is shifting the ski puffer jacket from fashion's periphery to front of mind – and from the slopes to the streets.
We're engineered for the mountains, but designed for the city," explains Dellano Pereira, one of the three partners of Templa, an outdoor performance-wear label based out of Melbourne and Antwerp designing clothes for alpine and urban settings.
It's an unusual equation to work out at first – images of ski-goers parading the streets in their snowsuits spring to mind – but one that creative director Rob Maniscalco, brand director Pereira and commercial director Anati Rakocz resolve without flinching. "We noted that the global sportswear market was single-handedly outpacing all other apparel and accessory categories combined, but the alpine market had this ubiquitous look that wasn't really progressive," explain Pereira and Maniscalco of their inspiration to establish Templa in 2016.
Maniscalco had sold his fashion label Claude Maus in 2012 and was eager to re-enter the industry with a new offering. Pereira, who is also the creative director and principal of creative agency Three60, had looked after Claude Maus's branding. It dawned on Maniscalco and Pereira, an avid skier and snowboarder respectively, that although they loved their sports, the available clothing required in such conditions was incompatible with their personal styles. Then came their 'a-ha' moment: "[What if] there was an appetite for cooler, more contemporary apparel that was technical, built and engineered for the mountains and for the sport but looked like fashion?"
This realisation came ahead of its time, preceding the explosive trend of outerwear that would pervade the autumn/winter '16/'17 runways of Balenciaga, Raf Simons (the Belgian designer is collaborating with Templa on an autumn/winter '19/'20 collection) and the resurrection of Prada Linea Rossa, the nylon-heavy sportswear-inspired line under the Italian house. It also came before Vetements would introduce its collaboration with Canada Goose – reinventing staples from the heritage brand for spring/summer '17 – or The North Face would collaborate with streetwear label Supreme.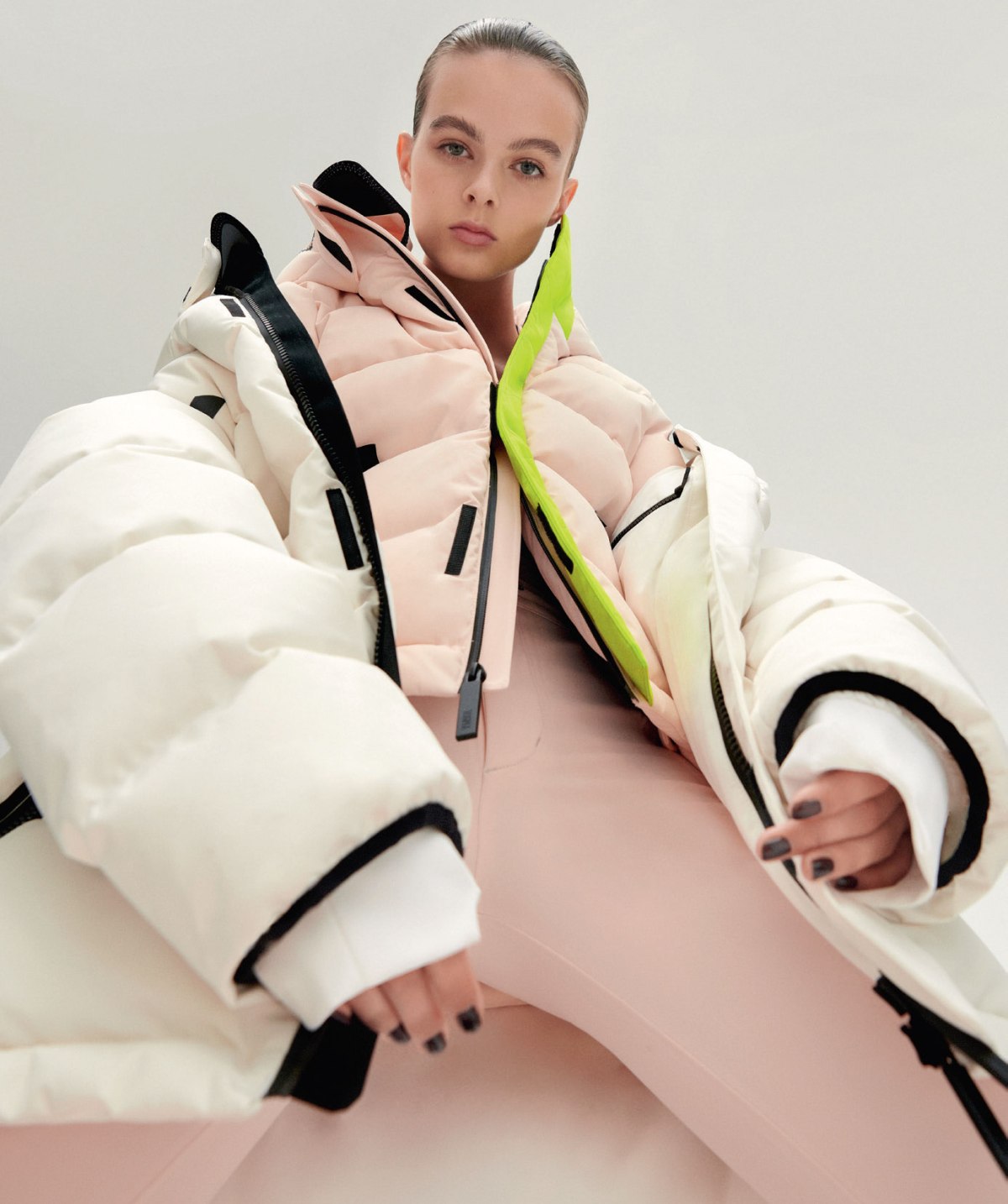 Photographed by Duncan Killick, styled by Philippa Moroney, Vogue Australia, July 2019.
Blazing the trail for a new category in apparel, Maniscalco and Pereira identified a unique parallel in the worlds of fashion and sport. While the emerging outerwear trend on fashion runways lacked technical innovation, inspiration in the alpine market had reached a standstill, opening the door for a hybrid brand to fuse the two together. "We wanted to create a language that doesn't look like what's expected in an alpine setting … a merger between the alpine world and the fashion world," Maniscalco explains.
This language translates into high-fashion, high-function jackets with removable hoods and snow skirts, sleeve extensions and built-in Recco technology (a two-part system designed to help rescue skiers from avalanches) that emphasise Templa's dual appeal. This convertibility is what makes Templa jackets the ideal companions in cities like New York or Paris, and alpine villages like Verbier, that experience similar inclement conditions. The outerwear is made in Italy and China – the garments are engineered first ("optimised at an elite level"), fabric and colour are secondary – and textiles are sourced from Germany and Switzerland. Where possible, garments are made in eco-conscious textile mills using recycled fabrics, and sustainable packaging is in the works. Templa also eschews the regular retail model, releasing nonoccasion specific editions "with the spirit that [a Templa jacket] is not limited to a year or to a season", Rakocz explains.
As the former commercial director at Ann Demeulemeester and Haider Ackermann, Rakocz helped land the brand its first luxury retailer, Barneys New York, in 2017, and later secured shelf space at Selfridges, Lane Crawford and online at Net-A-Porter, solidifying Templa's viability as a fashion brand. In the sporting world, Templa earned its stripes in January 2018, winning the prestigious ISPO Brandnew category award for apparel, announcing its collaboration with Simons one year later. "That was the icing on the cake. [Both achievements] solidified our position in the market," Dellano reflects.
The brand is currently working on their pro line – Templa consults with a network of athletes to optimise their product – and the launch of the Raf Simons x Templa collection, slated for release in September. Where is Templa heading next? Maniscalco anticipates the urban-slashalpine brand is moving in more than one direction: "I can equally see us showing on catwalks in Paris and dressing professional athletes in back-country Alaska."
This article originally appeared in Vogue Australia's July 2019 issue.