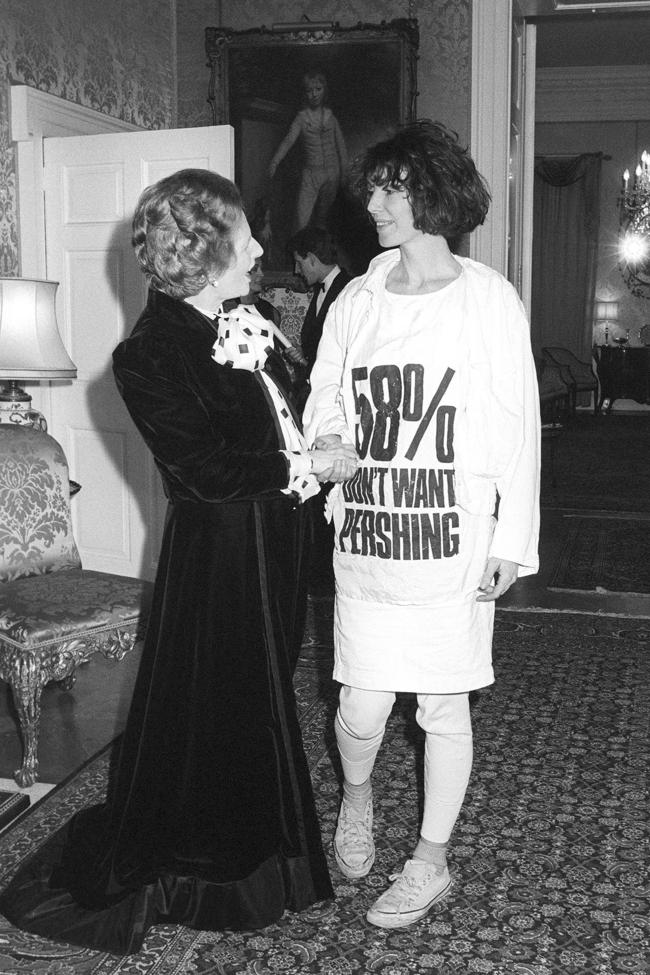 Image credit: PA Images
When Katharine Hamnett created her now famous slogan T-shirts in 1983 – emblazoned in block capitals with phrases like "Choose Life" and "Save the World" – she hoped they would be imitated widely. "The messages were the things that were designed to be copied, not just the typeface for fuck's sake," Hamnett, 71, tells Vogue from her east London studio. She cites Henry Holland and Dior's "We Should All Be Feminists" tees as disappointing spin-offs, "watered down" attempts at fashion activism, explaining that the original tees were designed to "weaponise the human body as a noticeboard".
This is coming from the woman who famously caught former British prime minister Margaret Thatcher by surprise at a 1984 reception by whipping off her coat to reveal an anti-nuclear missiles T-shirt (above). "I haven't been invited since; I think they're terrified I'll try to do the same thing again," she says. A fair concern, considering Hamnett's outspoken nature. (She's campaigned on a series of subjects, from the Iraq War to climate change and, most recently, Brexit.)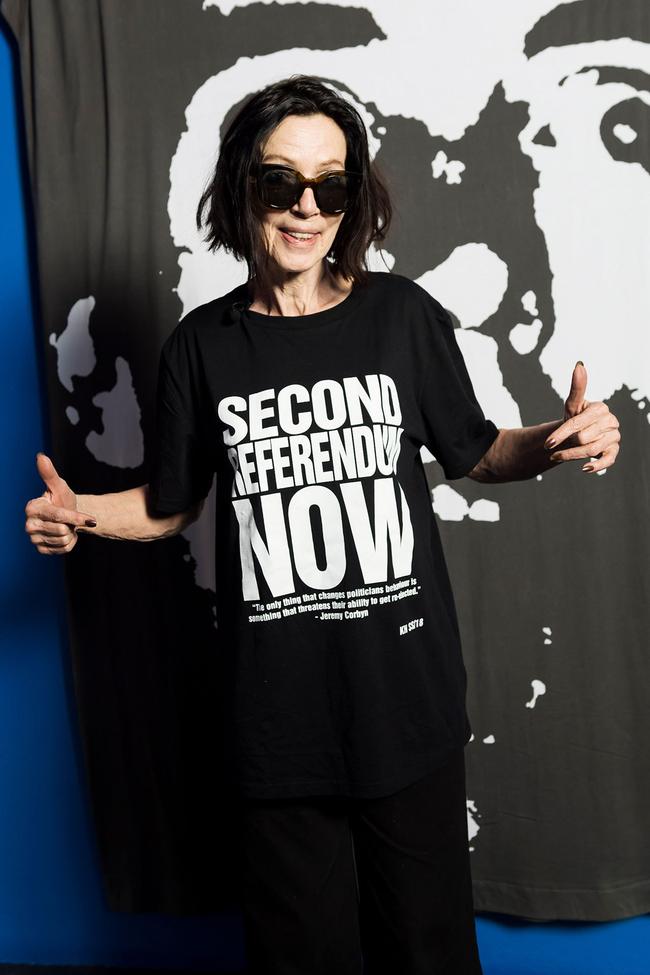 Image credit: Getty Images
Political statements aside, Hamnett (above) is arguably best known as fashion's original sustainability pioneer after embarking on her mission to clean up the industry 30 years ago. "I've always been interested in nature," she says of how the environment became central to her brand's ethos. "I'm [also] interested in Buddhism; they talk about earning a living without hurting any living things as being one of the prerequisites to a happy life." Having children, too, increased the sense of urgency with which she wanted to act, she explains.
Hamnett started assessing her brand's practices and sustainability in 1989, long before "eco", "green" and "conscious" were fashion buzzwords. She commissioned a study into the social and environmental impact of fashion, "thinking we weren't going to find anything wrong", she recalls. "Of course, we found everything wrong: thousands of deaths from accidental poisoning in the cotton industry; people working in conditions worse than slavery; every single fibre and process was having a negative impact – of course the carbon emissions are colossal."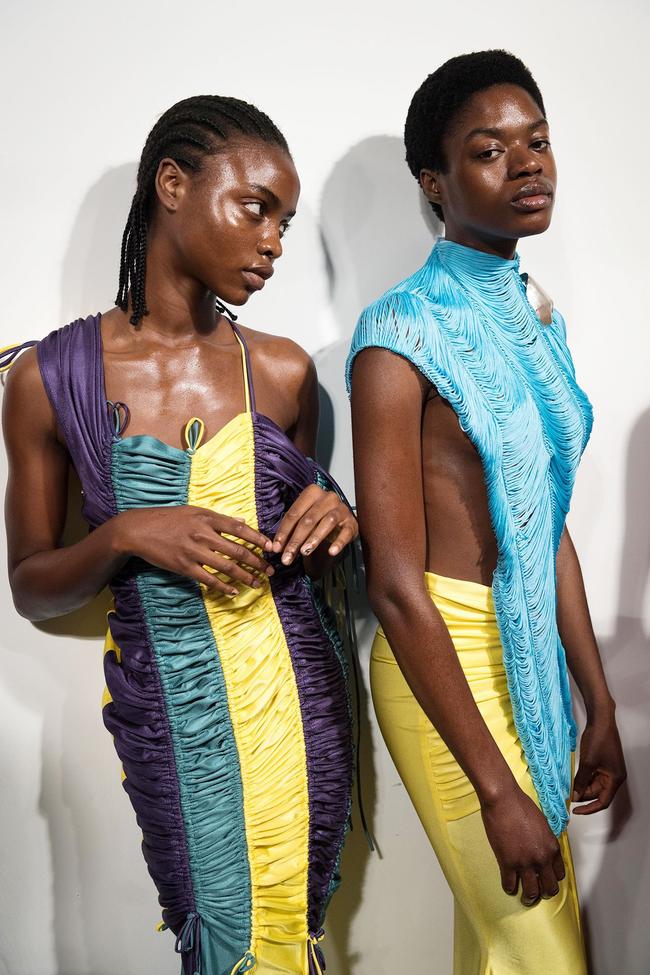 Image credit: Getty Images
As a result of the report's findings, Hamnett switched to organic cotton to create her easy-to-wear staples, avoiding materials made using toxic chemicals like PVC and polyester. She also moved her production back to Europe, to ensure workers were being treated ethically. But the lack of eco-friendly fabrics available at the time proved a challenge. "We moved as much as we could to organic cotton, but it was really hard to get," the designer explains. Not that that changed her determination to send out a strong message about the devastating effects of the fashion industry, which started with her autumn/winter '89/'90 collection, entitled "Clean Up or Die".
The new generation of designers – Richard Malone (above), whose fabrics are handwoven and naturally dyed by female artisans in southern India, and recent H&M Design Award winner Priya Ahluwalia (below), who only uses vintage materials – gives Hamnett hope. As does the work of Dio Kurazawa, WGSN denim director and co-founder of The Bear Scouts, which helps brands clean up their supply chains. "We're always going to need clothes, so proving it can be done [sustainably] – that's worth doing," she notes.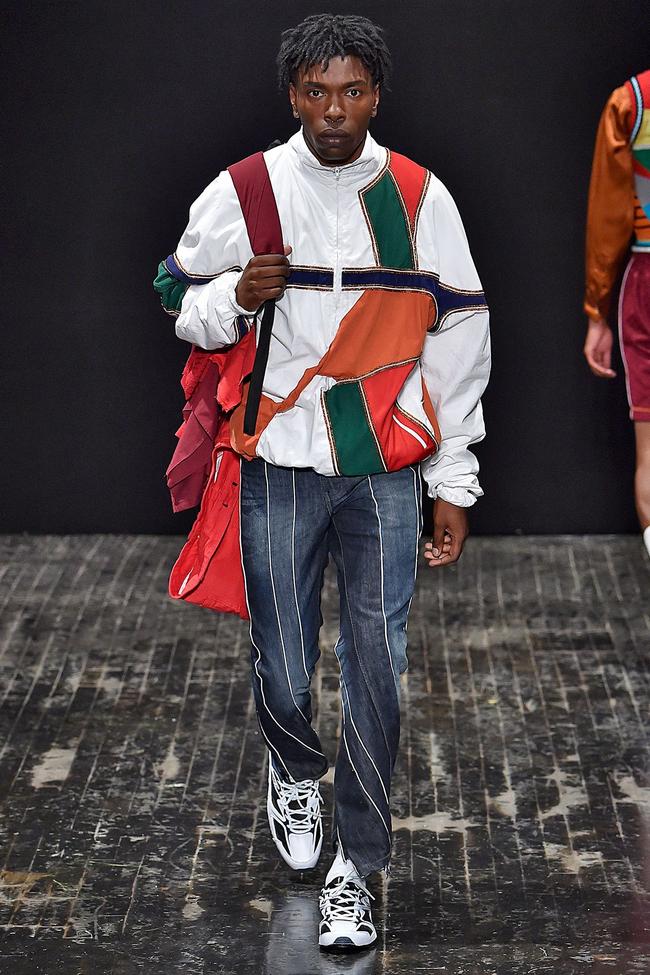 Image credit: Getty Images
Then there's also the Extinction Rebellion protests, led by teenage activists such as Greta Thunberg and taking place in 33 countries around the world. "It's amazing what they've done. The schoolkids going on strike; they can see it's their future that's threatened," Hamnett says, despite her long-held anti-marching views. "It's usually a waste of time unless it's followed up with putting pressure on your elected representatives… [but Extinction Rebellion has] had a phenomenal effect and we've got to capitalise on their work," she says.
Hamnett is pushing for legislation to affect real change. "The only thing that's going to really fix it is legislation that only allows goods into our economic blocks when they are made to the same standards outside as inside [them]," she argues, adding that this would encompass "environmental standards, human rights, health and safety, [and] labour laws". The week we meet the designer is speaking at the Copenhagen Fashion Summit about why she is backing a Green New Deal – similar to the one proposed by American congresswoman Alexandria Ocasio-Cortez – for the fashion industry.